Gaillardia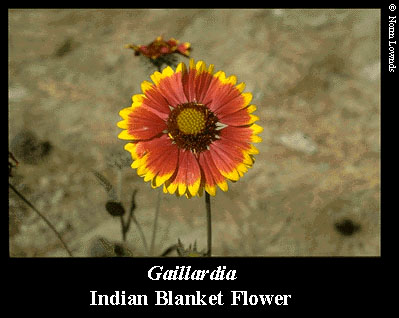 Victoria Frietze, Agro / Hort 100G Spring 2002
What a beautiful flower the Gaillardia or Indian Blanket Flower is. This remarkable flower first originated in North America. It got its name Indian Blanket Flower from the resemblance of its red, gold and bronze shades to the traditional colors of Indian crafts in the southwestern U.S. The Blanket Flower is a plant that grows very bushy and it is most likely round. The daisy-like flower has a single, double, or semi-double form and it terminals on a long stem. Its leaves are oblanceolate, lobed, and hairy. The flower has a large center that is rose-purple in color. The petals are orange, crimson or copper scarlet with an out line of yellow.
This plant blooms from early summer to fall. It can grow to be about 8" to 12" and space apart about 15". In order to get the plant to grow, one must keep it in the sunlight, because it loves sunny areas and well-drained soil. However, one must be careful because soggy soil can cause root rot in the winter.
This ravishing flower can be cut after blooming is completed and can be displayed for about a week as long as it is kept in water. Due to the brilliant and bright colors of the flower, the Indian Blanket Flower makes a great decorative display.
RaeLynn Dunlap, Agro / Hort 100G Spring 2002
These flowers are easy to spot with their bright colors consisting of shades of reds, oranges, and yellows. The colorful flowers are three-pronged at the tips of each petal, with a wide base. The pollen is a brown shade. Leaves are a light green and to a grayish green and are usually eight to ten inches. They are usually opposite.
These easy growing plants do best in low to moderate soil and have high organic matter content. Textures of these plants, on the petals they are smooth, and the leaves are somewhat rough. The smell is not that delightful. However, they do make a beautiful flower arrangement.
To promote more flowering you should remove the earliest faded flowers. This is a popular plant because of its long season of flowering. It makes a good attention to a garden.